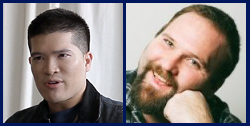 NMR's superheroes Alan Van and Jeff Klima
On August 29th, we described NewMediaRockstars as "the definitive leader in new media journalism" – a sentiment fitting for a publication of NMR's sheer size, volume and popularity. Unfortunately this triumphant declaration was one immediately followed by the words "Cease Operations" as NMR's then lone investor, Ryan DeVitis, pulled the plug on the whole operation, causing the publication to slip into a state of terminal life-support.
NMR's wide-reaching coverage ranged from all things YouTube, to industry specific news, scoops and most prominently, in depth, one-on-one interviews with some of digital media's top independent talents.
After funding from DeVitis ended, NMR's active newstream slipped into a state of cessation. It was during this crucial time that NewMediaRockstar's very own Rockstar – long-standing Editor-in-Chief, Alan Van – donned his signature mask, cape and vibranium shield and took to the streets in search of investors, personally unwilling to give up on the prominent publication.
As Van did the rounds and met with potential backers/battled supervillains, his trusty sidekick and all-around Boy Wonder/Senior Editor Jeff Klima did his part to keep the magazine afloat, updating with new articles if-and-when he could.
Van's search for funding on behalf of NMR soon paid off – a little less than two months after initially closing doors, news broke that NMR had found itself a financial saviour through the unlikely, but well fitting Danny Zappin – former CEO of Maker Studio.
With Alan and Jeff's hard work and dedication firmly paid off, NMR is in the process of returning back to full strength – very slowly but very surely…
Comedy TV is Dead editor, Dutch Gordon, got in touch with the very busy Alan Van and posed a few questions on the history, current state and future of the industry-leading publication. A big thank-you to Mr Van for taking the time out of his jam-packed, crime-fighting schedule to share his thoughts on all things NMR.

Interview on the following pages.