I recently covered a playful, lighthearted and immaculately put together web series called DINKS. During my first look at the series, I couldn't help but mention briefly another show which had very strong thematic and directorial ties to DINKS. That show was of course "I Miss Drugs", co-created by Nathaniel Boggess (who stars) and Jason Eksuzian (creator of DINKS).
Uploaded to Vimeo over a year ago – running from June through October 2012 – the series ran for an all too brief five episodes before ending with no hint of a followup series, despite attracting a respectable crowd of fans – as you click around and watch the series, you'll see comment after comment asking for more – and notice many people simply checking back in the hopes of finding more episodes.
Why do I, and so many others miss "I miss Drugs" so much? I suspect it has something to do with the fundamentally interesting truths and the general relate-ability the web series offers.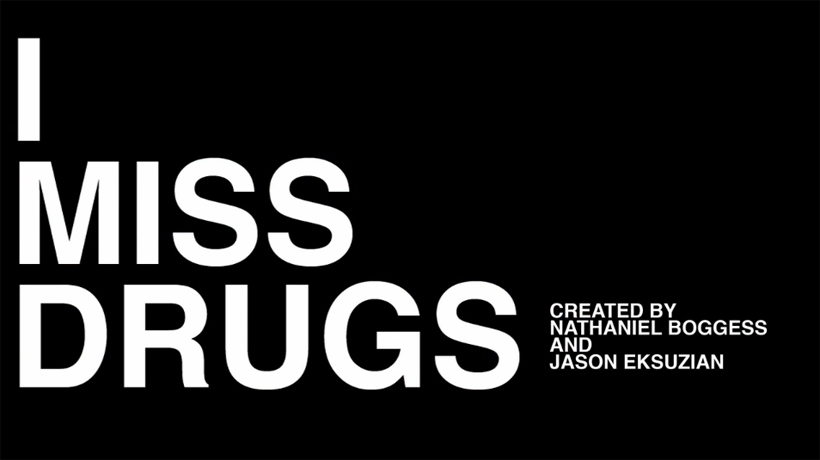 Like the recently reviewed "My Cousin Dakota", "I Miss Drugs" is a superb comedy of repetition. Simple, short and perfect for repeat viewing. Where "Dakota's" cyclical setup > reveal > twist aims to keep its viewers coming back, "I Miss Drugs" relies on a more straightforward, yet equally satisfying use of monologue paired with contradictory, or all too revealing visual cues to tell its depressing(ly all too real) stories.
If you haven't seen the series already, to go into any more detail would dampen the brilliant moment of understanding that occurs when episode one ends and number two subsequently begins (so I'll shut up and address the technicals).
For such a minimalist series, the acting is of a surprisingly high quality. Telling looks, distracted nods and wistful, empty stares guide us through much of the subtle comedy. Slow and dreamy camerawork and well selected shots – for instance a bedroom alarm clock reading 10:44pm – does the rest of the heavy work. Like co-creator Eksuzian's DINKS, this is a very well made short series.
I suppose with the recent influx of original, experimental and short (even by web series standards) shows that I've been enjoying, I've found myself hungering for more of this show lately, almost out of the blue. As much as I enjoy watching the numerous well constructed, 5-10 minute long web series that are telling increasingly complex and gripping stories, I'm always going to enjoy the uniquely web-centric, bitesized chunks of comedy that offerings like "I Miss Drugs" provide.
Perhaps the show's short run was always an important part of the charm behind "I Miss Drugs" – as brilliant as the concept and execution are, it's easy to see how the idea can wear thin with too much use. On the other hand, surely a year and half is long enough already? Is it time for another series of I Miss Drugs? I don't think I'm alone in wondering this. What do you think?
If you haven't already seen "I Miss Drugs", do yourself a favour and get started HERE