Hank Green and Bernie Su, the creative team behind the extremely popular Lizzie Bennet Diaries, announced at VidCon 2013 that their next project will be Emma Approved; a similarly stylised adaptation of another Jane Austen novel: Emma.
Hank Green is also, helpfully, the co-founder of VidCon itself, along with his brother, John Green. Hank and John together are the YouTube Channel Vlogbrothers, and VidCon is an annual conference focusing on the online video industry, now in its fourth year; an excellent place to make announcements about hotly anticipated new shows.
Emma Approved was announced at the conference, which took place earlier this month. That announcement was followed by a Tweet from the Lizzie Bennet feed, @TheLBDofficial, stating, 'And… the new series is EMMA!!'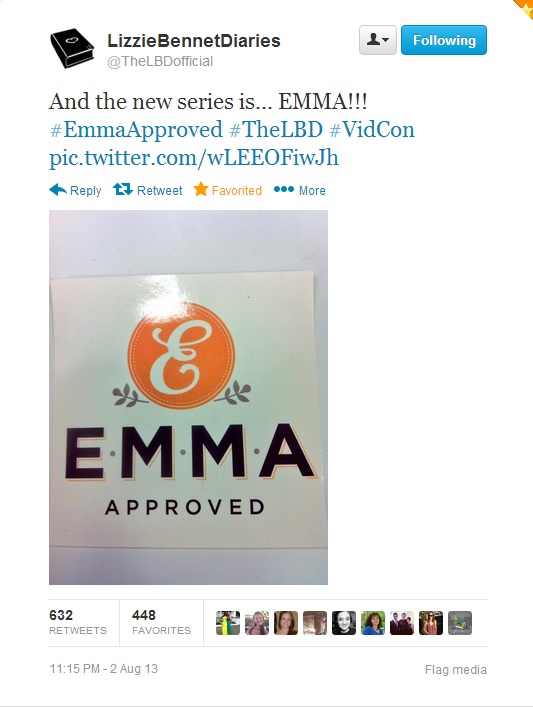 Austen's Emma is the story of a woman with a rather inflated perception of her own capabilities. She sets herself the lofty task of town match maker, leading to much folly and misunderstanding along the way. Along with Pride and Prejudice, Emma is one of the most popular of Austen's works and the story of a meddling self-congratulatory protagonist should be ripe for a 2013 revisit: especially in the ultra modern 'vlog' style as showcased by its very successful forbearer, The Lizzie Bennet Diaries.
The Streamy award winning Lizzie Bennet Diaries was a modern re-telling of Austen's classic work, Pride and Prejudice. For 'modern', I don't mean 'similar plot but set today'. That's already been done ad nauseam in films like 10 Things I Hate About You (a re-telling of Shakespeare's The Taming Of The Shrew), and Clueless (also Austen's Emma), to name a few. The Lizzie Bennet Diaries was an adaptation for the YouTube age. The story was told through use of a vlog style whereby Lizzie would complain, cheer, and vent about her life in a manner mostly matching up to the events of the original material. In the novel we read about the people in Elizabeth's life from her skewed point of view and the vlog format for Lizzie manages to magnify this by (mostly) forcing us to stay in one location and obtain all our information from this bright, if somewhat judgemental, narrator; a woman who rather smugly announces she is studying 'mass communications' at university at any given opportunity.
Other characters also made appearances on camera; such as dumb party girl Lydia (Lizzie's younger sister and bane of her life); best friend and sensible Charlotte Lu (named Charlotte Lucas in the novel – playing the role of camera women here), the always sweet Jane; Lizzie's beautiful elder sister; plus many more classic characters. In addition, Lizzie often dressed up to act out amusing caricatures of the people she talks about, including characters who never get any actual on-screen time, like her father. The series ran to a staggering 100 episodes of 3 – 5 minutes each over the course of a year, accumulating over 20 millions views in the process.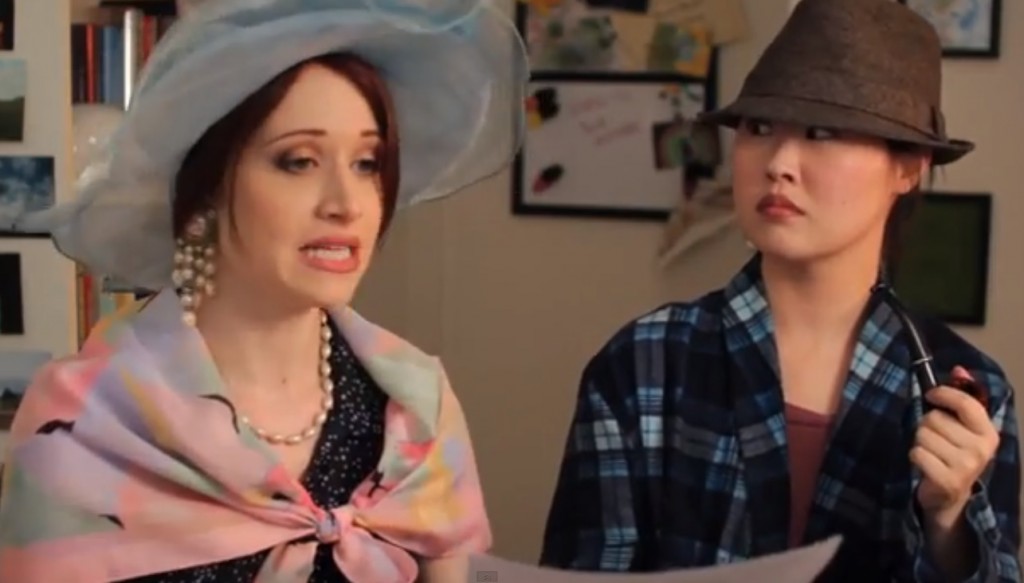 No surprise then that a full on reworking of another beloved Austen novel would be put together as soon as possible. Information about Emma Approved is scarce at the moment. A 'coming soon' website is up. An empty YouTube channel is primed.  A sparse Twitter feed is tweeting (@EmmaApproved), and accompanying Pinterest and Instrgram accounts (the latter's by-line being, 'Life coach, match maker. I make your life better') are online and ready to go. The Lizzie Bennet Diaries featured a whole host of bonus content and if the approach used for Emma Approved is similar then we are in for a 'transmedia' blast, such as; in-character social media accounts and conversations; Q&A webcam sessions; and additional vlogs from other characters.
Follow up show, Welcome To Sanditon (based on the unfinished Austen novel, Sanditon) took the transmedia approach one stage further. It had several characters existing only on Twitter but still being referenced in the main show, and it also featured viewers contributing fresh content through role-playing audience participation; viewer webcam uploads made from the point of view of visitors to the fictional Sanditon and excerpts from these spliced into the show.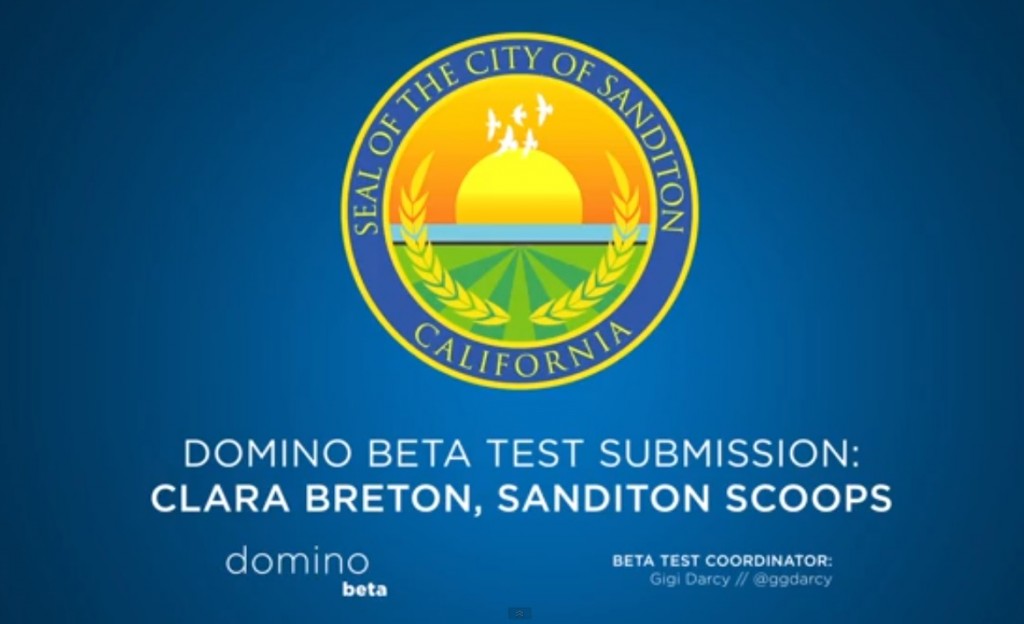 Transmedia aside, telling a narrative purely through vlogs is no mean task. Green and Su will have to ensure that whoever is cast in the lead role of Emma has a strong and engaging presence, if not necessarily as likeable as Lizzie Bennet (Austen herself said she set out to create 'a heroine that no one but myself will much like'). Casting has yet to be announced, although it seems that the previous stars of the show will not be re-used. Hypable reported putting this to Su at VidCon. Su responded:-
"The only way…that [Emma Approved] is not in the same universe is if one of the actors plays a vital role in the second series as a different character, but I don't see that happening".
Thus maintaining an 'in-universe' feel to this trinity of Austen adaptations, Emma Approved will feature a fresh new cast, although it is possible (as with Welcome To Sanditon) that Lizzie Bennet actresses may turn up as their previous characters if plot permits.
Judging by the success, and charming warmth, of The Lizzie Bennet Diaries excitement will be high for Emma Approved. More news as it comes!