After a very successful debut last year The HollyWeb Festival has taken some major strides to become one of the main events on the web series calendar. Located in sunny Hollywood and screenings taking place in Raleigh Studios has helped establish the festival and has seen a positive response from both audiences and creators.
Although a relatively new concept, award platforms for web series' have been steadily popping up over the last few years from The Streamys to our own highly coveted Comedy TV is Dead Awards, those hard working content creators are starting to get some recognition beyond seeing their subscribers increase.
Speaking shortly before the 2013 festival co-founder Jennifer Doherty said "We have expanded considerably for 2013 and cannot wait for the first weekend of April! We really feel like we are doing something great here – we love being able to honor the web series community and give them credit for their hard work". Running from April 5 to April 7th packs in three solid days of the best web series' the world has to offer.
A.A.Wintringham, Krista Rand, Christa Andersen, and Kris McRonney
What is very appealing for content makers is the chance to have their work screened in a massive cinema with a room full of like minded people, feeling aesthetically more like the Sundance Festival than an event for shows made purely for online consumption.
Daniel Doherty, co-creator of HollyWeb Festival believes this is what sets them apart from other events;  "It is truly a pleasure watching web series creators react to seeing their work projected on the big screen for the first time.  Most creators have only seen their series on their own computers, and without a live audience. It doesn't get much better than seeing your hard work on a 30 foot screen!"
This type of forward thinking is clearly what has got people and sponsors attention, offering a much needed avenue for creators to have their work screened to audiences at a well known venue. Both Daniel and Jennifer have hands on experience in making online content and the rapid rise of this festival is nothing short of extraordinary.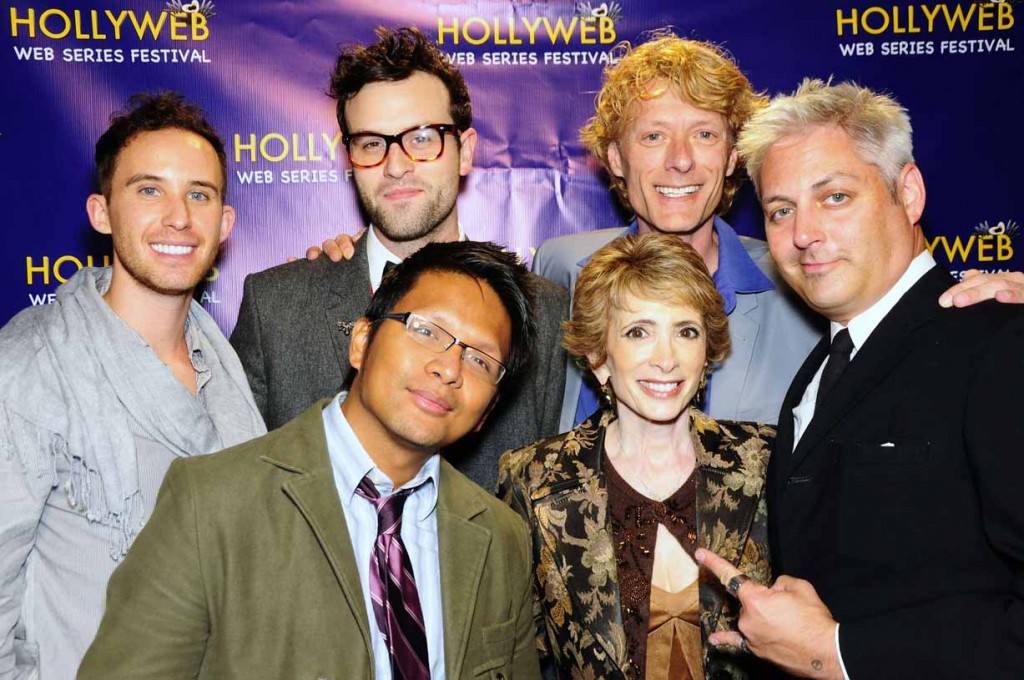 Matt Ladensack, Ryland Shelton, Leon Acord, Curt Bonnem, Amanda Abel & Arvin Bautista at HollyWeb Festival 2012 Photo: Jefff Knight
For a full list of the winners why not head on over to their website and we will be bringing you a full review of their winning comedy series inSAYSHAble next week.
♦ End