The Casting Room is a long running sketch-style web series that aims to both entertain its viewers and teach them a few handy do's and don'ts about auditioning in the process. The series was created over two years ago by the experienced Hollywood casting agent Stephanie Gorin and prolific Actress Naomi Snieckus – the pair star in every episode as a Hollywood casting agent Stephanie (Gorin) and her ever-late assistant Naomi (Snieckus). Gorin has said that the idea for the series came whilst "doing workshops for charity, teaching actors some of the dos and don'ts that can win or lose you a job".
It's a unique and commendable concept
…but most importantly, one that doesn't overtly interfere with the quality of the series, instead relegating the "lesson" to a punchy end credit title card that summarises what we've just seen in a few words.
Running between a minute and a half to two minutes an episode, The Casting Room immediately finds its groove, relying on an enjoyable and familiar routine to make the most of its brief running time. Its subject matter – zany auditions by struggling performers – is unoriginal by web series standards, but the series gets a free pass because in all likelihood, it was the first to tackle the subject; if you're burned out on the extremely popular sub-genre then you may want to look elsewhere, as The Casting Room offers little else outside its humorous auditions.
Each episode begins with Naomi arriving late to work and making a flimsy excuse for herself. Boss Stephanie makes some dry and sarcastic remarks and then lays out the days agenda by telling Naomi which actor is coming in and what role they're trying for. There is some mild banter between Gorin and Snieckus but the witty exchanges are easy, safe, predictable and as such, quite dull. After a brief bit of banter, an actor will walk on, introduce themselves and perform his or her audition. This is where the meat of the series truly lies.
The audition's themselves are often strong…
…bringing in some very talented comedy actors willing to make fun of themselves for laughs. The writing here excels in a way that Naomi and Stephanie's segments simply don't, which leads me to wonder if perhaps the stale back-and-forth's from the shows leads are (for whatever reason) intentionally bland.
In fact, back-and-forth is the wrong way to describe these exchanges. The unfortunate flaw with Naomi and Stephanie's interactions – which renders them so bland – is just how unbalanced they are.
Whilst Naomi Snieckus does a fantastic job playing her part as the ever-late assistant, Stephanie Gorin's character is simply too infallible as the experienced and world-wise boss. Stephanie's sharp observational skills coupled with her cynical and dry sarcasm compound to make her character come across as a knowitall.
Characters like this can and often do work well in comedy, but it's important that they are cut down to size in the end; something that sadly never happens here. Gorin's character is simply too smug, acting her part as though she is the only grown-up in a room full of toddlers – no malice to her sarcasm, just a patronising sense of patient superiority.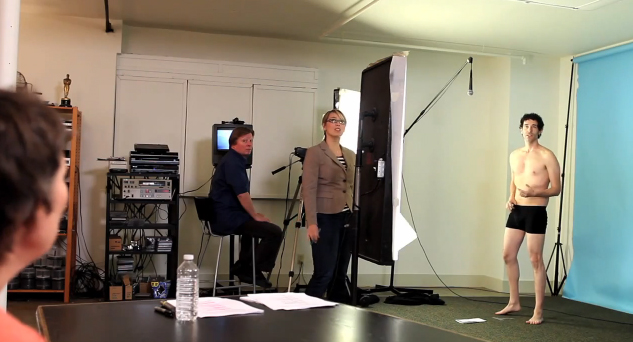 At best this is boring to watch, but at worse, Gorin's character comes off as an embarrassing self-insert; an authors own ego subconsciously forcing its way into his or her fiction. How on Earth this happened with two writers collaborating on the project is a mystery to me.
Lastly, The Casting Room lacks dimension – the familiar setup each week is a blessing that Snieckus and Gorin are failing to correctly leverage. Stephanie and Naomi should be adding anticipation, layering each episode and building up the inevitable walk-on guest role by sharing gossip about them before each audition. An actor trying out for several parts and getting flustered and confused between them is funny, but one-dimensional. Let the viewer in on the secret that he's also juggling multiple affairs however, and suddenly a richness of humour forms. I'd like to have seen at least a hint of this over The Casting Room's many episodes, but such depth never materialised.
Mixed Bag
The Casting Room is a commendable, and certainly enjoyable if mixed-bag of series. The walk-on auditions obviously steal the show and make it worth jumping into and watching every once in a while, but its numerous flaws coupled with overlong end credits make the show very difficult to marathon one after another.
If you're not burned out on "audition comedy", The Casting Room is one of the oldest, but not best. Give it a watch, you could do much worse, and I mean that.
You can watch The Casting Room on YouTube. I'd strongly recommend you click that link instead of searching for the show yourself. There's a good chance you'll stumble upon a wealth of porn if you do.
I'm not kidding.